Everyone experiences anxiety for different reasons.  This one day workshop is designed to help you understand and manage your anxiety in a better way.
What you will learn:
Understand how brain chemistry is connected to anxiety
Learn the 4 main triggers of anxiety and panic attacks
Hands on activities to help you understand your own anxiety
Tools and techniques to help you manage and release panic attacks and anxiety when they arise
Meditation/ Hypnotherapy to help you release those old patterns creating your anxiety and embrace your full potential.
Providing safe & comfortable environment for you to discover more about yourself.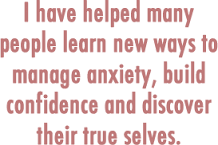 The official class date to follow shortly.  If you are interested in attending my up coming class please email me Donna at regression67@optusnet.com.au and let me.
I look forward to hearing from you.
Online course will be available shortly as well for your convenience.